The name Dodge is synonymous with American values of size, power, and style. As part of Fiat-Chrysler Automobiles, Dodge is one of America's oldest and most loved automakers. Dodge Ram trucks have the most loyal owners of any pick-up.
With all we know about Dodge and their history of performance and value, what can buyers expect from a 2020 Dodge vehicle?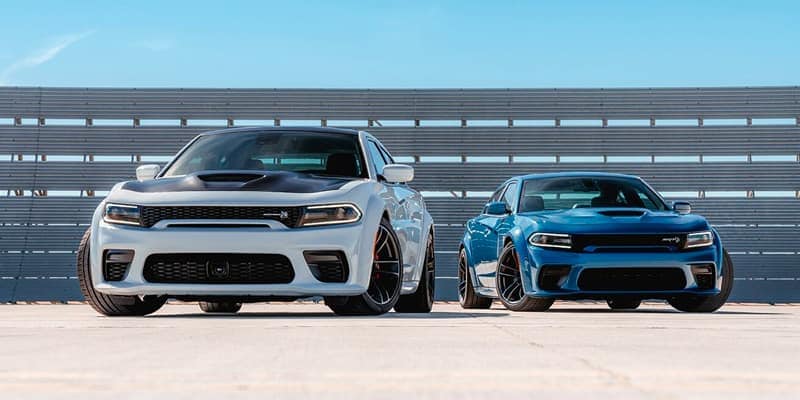 Award-Winning Quality
The most important factor when purchasing a vehicle is quality. Dodge is the first U.S. auto manufacturer to net the highest ranking in the J.D. Power Initial Quality Study 2020, tying for first place with Kia. Dodge's sister brand Ram placed third.
The J.D Power study quantifies reliability by counting the number of problems owners have with their new 2020-model-year vehicles in the first 90 days of ownership. It measures components that fail as well as features that are difficult to use, hard to understand or don't work like they're supposed to work.
For the first time in the 34-year-study, Dodge scored the win for the highest initial quality. From the high-performance hot 2020 Charger to the reliable Grand Caravan, Dodge vehicles continue to exceed customer expectations.
Choosing a 2020 Dodge Vehicle
Besides purchasing a quality vehicle, the Dodge vehicle line-up is sure to please with something for just about everyone. From muscle to hustle, new Dodge vehicles have it all. Your only problem will be which one to choose.
Dodge Muscle
Forever pursuing horsepower, the Dodge Brand has always strived to offer a vehicle for everyone in the Brotherhood of Muscle. With a history of strength, power, and speed, Dodge continues the new era of muscle with the fastest and most powerful Durango yet, the 710-horsepower Dodge Durango SRT Hellcat.
With three rows of seats and 710 horsepower ready to roar, the Dodge Durango SRT Hellcat is a ride the whole family can enjoy. As the name suggests, there's a supercharged V-8 engine hidden within its intimidating bodywork.
With its standard all-wheel-drive system, the Durango is ready for breathtaking acceleration. When the Durango isn't causing its occupants to squeal with delight, it's ready to tow up to 8700 pounds - that's a lot of groceries!
The Dodge Durango SRT Hellcat is one mid-size SUV that's anything but boring.
Another member of the muscle mania is the 2020 Dodge Challenger, a classic muscle car, built for speed and performance. The Challenger carries on the Dodge legacy of power with its Supercharged 6.2L HEMI and up to 717 horsepower.
It is bigger and badder with Widebody fender flares adding 3.5 inches of width to its menacing stance. Under those flares is where the rubber meets the road, 20x11-inch Carbon Black forged aluminum wheels wrapped in 305/35ZR20 Pirelli PZERO all-season tires provide superior grip and performance.
With the available TorqueFlite eight-speed automatic transmission, the 2020 Dodge Challenger is the fastest GT production car. Don't blink, you might miss it! The Challenger SRT Hellcat runs the quarter-mile in 10.8 seconds at 131 mph.
Armed with the most powerful production V-8 engine, this is the fastest most powerful muscle car of the new Dodge vehicles.
More Room, Less Muscle
Get the whole family together, or round up the friends, the 7-passenger seating of the Dodge Journey has comfort and space for everyone. Along with 67.7 cubic feet of cargo volume, the price-conscious Journey is a perfect fit.
With its 172-hp 2.4-liter four-cylinder engine paired with four-speed automatic transmission and front-wheel drive, The Journey is the ultimate get-away vehicle. Up to 500 highway miles per tank means you rarely have to stop.
The safety and performance are built right in with rear parking assist on both Journey models and a standard sunroof for the Crossroad. Dodge has stream-lined the option-picking process with the Popular Equipment Group which bundles many of the most popular features together.
In the SE Value trim, the package gives you a six-way power-adjustable driver's seat, Uconnect with Voice Command and Bluetooth, SiriusXM satellite radio, three-zone climate control, security alarm, and a leather-wrapped shift knob and steering wheel.
The Crossroad's popular equipment group adds a universal garage door opener, remote start, heated front seats and steering wheel, navigation, and a six-speaker sound system with a subwoofer.
Dodge has announced the end of the journey for the Dodge Journey with the 2020 models the last of production. Last chance to purchase the price-conscious practicality of this model vehicle.
Even More Room
The 2020 Grand Caravan is still the most affordable and practical minivan available. No question it was built for versatility. Its classic exterior design is practical and timeless. With storage bins, cupholders, easy-to-clean upholstery, and much more, the Grand Caravan was built with the minivan driver in mind.
On select models, the second and/or third-row seating can be stowed or removed to provide 140 cubic feet of storage space giving your family more than enough room for all your vacation gear.
The midrange SE Plus model comes standard with second-row captain's chairs, an eight-way power driver's seat, and red accent stitching to contrast the black upholstery. A Blacktop Appearance Package is now optional on both the SE Plus and SXT models.
Whichever model you choose, the Dodge Grand Caravan is sure to please. This family-favorite vehicle is seeing the end of production with its 2020 model. Act now to ensure your family's vacation fun.
The History of Dodge Goes Way Back
The Dodge name has long been associated with brawny muscle cars and handsome, durable pickups. While not as prominent, Dodge cars and vans have been no less important to the brand history. The Caravan pioneered the minivan movement.
Dodge, started in the 1900s by the Dodge Brothers Company, is an All-American car company. It was acquired by Chrysler in 1928 and has been with them ever since. Dodge was always considered the sportier of the two brands, with Chrysler assuming the more luxury niche.
Dodge has a Great Selection of Quality Vehicles
Today, Dodge is building practical quality cars and SUVs that also have a healthy amount of sporty spunk. Established names like Charger, Grand Caravan, and Durango are all still available.
If you are seeking a serious dose of muscle, Dodge has you covered with a line of vehicles that will blow the doors off most other cars on the road. For quality, size, performance, and price, Dodge is sure to please.
Holzhauer Auto Group in Nashville Illinois is one of the Midwest's largest and fastest-growing dealerships. We don't just compete, we blow the competition away. Visit our inventory of 2020 Dodge vehicles and find the Dodge of your dream today.