Looking for a vehicle that's functionally versatile and aesthetically unique? If so, you might consider buying the 2020 Jeep Gladiator Sport.
Combining elements from both SUVs and pickup trucks, the Gladiator Sport offers ample power and cargo space. Thriving in all types of conditions, it's a must-have in 2020.
Looking to learn a little more about the Gladiator Sport? This article has you covered.
It Offers a Bevy of Cargo Space
Looking for a vehicle with ample cargo space? If so, the 2020 Gladiator is right up your alley. Not only does this vehicle provide a 5-foot pickup bed, but a bevy of interior cargo space as well.
Sporting two rows of seating, it offers an excess of legroom for all passengers. Equipped with a variety of storage compartments (ie. glove compartment, cup holders, center console receptacles, etc.), it can seamlessly transport everything from sunglasses to cups to loose change and more.
Regardless of what you're looking to haul, the Gladiator should be able to accommodate it. While it's not as big as some pickups, its unique combination of interior and exterior cargo space gives it near-limitless storage possibilities.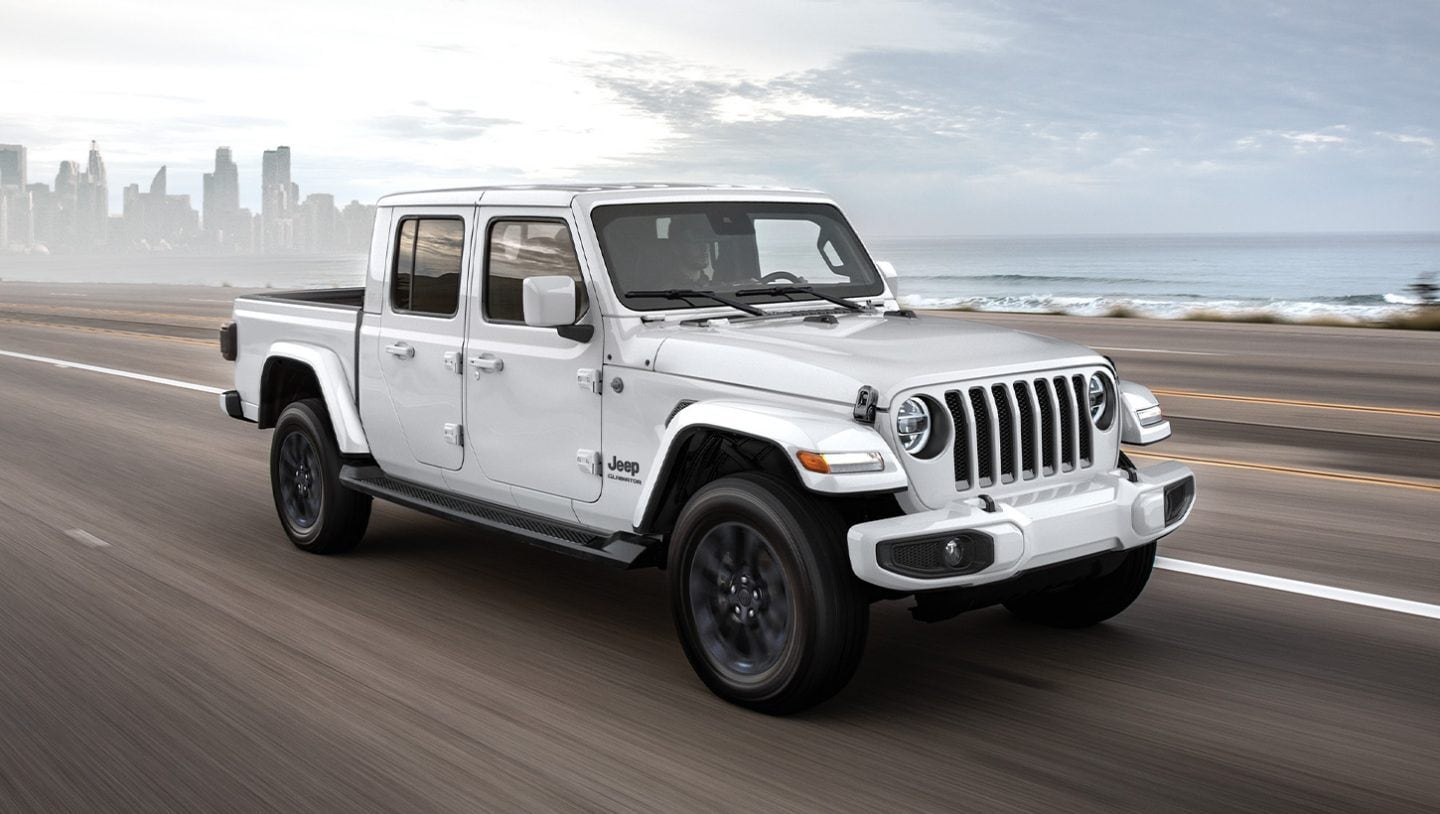 It Has Superb Offroading Capabilities
Like most of Jeep's vehicles, the Gladiator is built for offroading. As such, it can climb rocky mountains and cascade through sandy hills with little resistance. This is so for a number of reasons.
For one, it has a solid and responsive suspension system, one that can handle peaks and valleys with ease. For two, it's equipped with 4-wheel drive, allowing it to maintain traction on less-than-stable terrains. For three, it's equipped with a V6 285 horsepower engine, ensuring that it has the power needed to surge through rough and sticky situations.
These characteristics, combined with its superb handleability, make the Gladiator a monster on the trails. While other pickups rival its offroading capabilities, it's bested by none.
It Has a Terrific Towing Capacity for its Size
While it's not the strongest pickup truck on the market today, the Gladiator Sport offers plenty of towing capacity for its size. At its max, it can tow up to 7,650 pounds. This includes a 1600-pound payload.
Its above-average towing capacity is facilitated by its heavy-duty Dana 44 axles. Some of the strongest axles on the market, they're built to withstand not only long-term wear and tear but direct stress as well.
It's Convertible
One of the coolest things about Jeep vehicles is that they're convertible -- in more ways than one. Not only do they possess removable or retractable tops but removable doors as well. The Gladiator is no exception to this.
The 2020 model is available with both a hard and a soft top, the former of which is more durable and the latter of which is easier to remove. On a particularly nice day, there are few things better than hopping in the Gladiator, rolling the top down, and going for a leisurely ride.
Want to enhance the experience even further? You have the option to fold the windshield down as well. With the use of a small crankshaft, you can be driving windshield-less in seconds.
It's Equipped With a Portable Bluetooth Speaker
Perhaps the most unique thing about the 2020 Gladiator is that it's equipped with a portable Bluetooth speaker. Located on the rear of the back seat, it can be taken out and transported anywhere to allow for wireless, hands-free audio.
This is particularly useful during offroading trips, as it allows the group to keep itself entertained during walking adventures. Whether you're camping, fishing, or otherwise, the Gladiator will have you covered.
It Comes With a Bevy of Safety Features
Like almost every vehicle on the market today, the Gladiator comes with a bevy of safety features. These features run the gamut from a rearview camera to blind-spot monitoring to adaptive cruise control to automatic emergency braking and more. Together, they help the driver to avoid other vehicles, improving the chances of safe trips.
Note, the safety of the Gladiator has not yet been formally assessed. A review from the National Highway Traffic Safety Administration should be released soon.
It's Ideally Suited to Outdoor Activities
Whether you're going camping, fishing, hiking, or otherwise, if you're going to be spending time outdoors, you would be well served by taking a Jeep Gladiator along with you. This vehicle is essentially designed to accommodate outdoor activities.
Not only can it traverse bumpy and uneven terrains with ease, but, because of its truck bed, it can also act as an easy-to-access storage space for miscellaneous items (coolers, tackle boxes, tent equipment, etc.).
Plus, because it can open up on all of its sides, it can allow you to experience nature in all of its glory as it's being driven. Few other vehicles have the versatility needed to accommodate this.
It Looks Awesome
Simply put, the Gladiator Sport is one of the coolest looking vehicles on the market today. With its raised and angular body, it sports an aesthetic toughness that is rivaled by only a few other automobiles. Available in a range of colors, it can be personalized to meet your specific preferences.
If you're looking for a high-quality vehicle that stands out among the rest, the Gladiator Sport will have you covered. Aesthetically speaking, it's in a class all its own.
Buy the 2020 Jeep Gladiator Sport Today!
As you can see, the 2020 Jeep Gladiator Sport has a lot to offer. Whether you're an SUV fan, a pickup fan, or are just looking for a versatile vehicle, it will accommodate you.
Hoping to buy it in the Nashville, Illinois area? If so, you should stop by Holzhauer Auto and Motorsports Group. We sell all of the available trims of the Gladiator Sport and offer financing on each.
Have any questions for us? Contact us now!