A Jeep is the ultimate customization base for owners as it is off the lot. These are the best Jeep Wrangler options worth considering the purchase.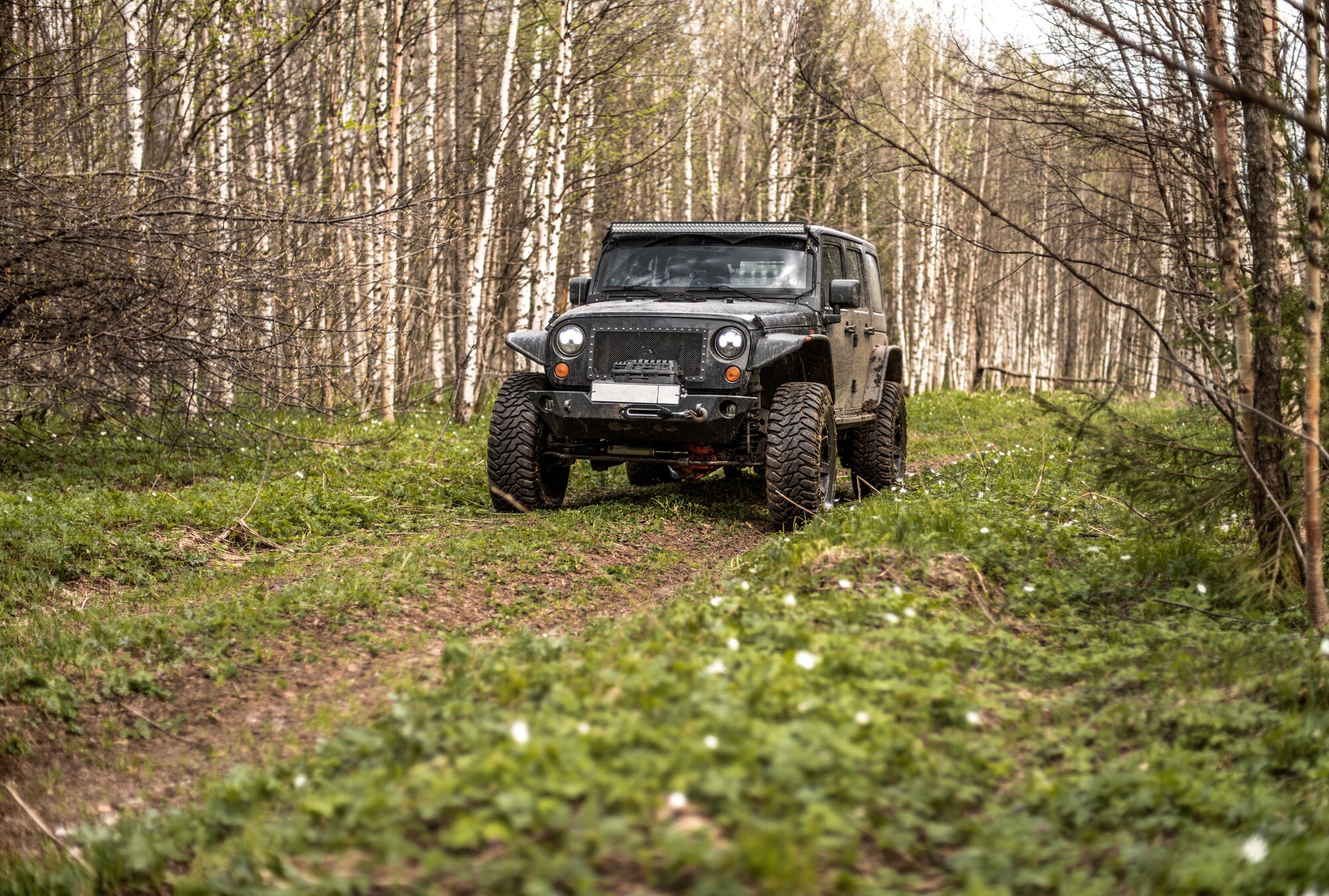 Jeeps have a long and storied past, having been around for nearly 80 years. From transporting soldiers on the battlefield to powering Zambonis, they were used in some pretty creative ways in their early days.
There weren't many options available in those days though. You didn't have different engines, tires, interior materials, or sound systems to choose from. And optional safety equipment? Forget it.
Today's Jeeps still carry the DNA from those early models but they have far more options available to choose from. Let's look at some of the best Jeep Wrangler options to look for when buying a new or used Jeep.
Drivetrain Options to Look For
Recent models of the Wrangler have two engines to choose from - a 3.6-liter V6 and a 2.0-liter turbocharged 4-cylinder. The 4-cylinder is the best choice for many people because it's more powerful while also being more efficient.
The one exception to that rule is if you plan to do a lot of off-roading with your Jeep. If you're climbing over rocks or driving up and down steep backroads, it can push the turbocharger pretty hard, which creates a lot of heat. Like the rest of the Wrangler, it's Trail Rated but it's still something to keep in mind.
A locking rear differential is another good option to have on your Jeep. This is true whether you're driving it around town or miles away from any form of civilization but it's especially useful on backroads where you could encounter mud, ice, snow, or other slippery situations.
Jeep has two choices of transmission as well, a 6-speed manual and an 8-speed automatic. Jeep purists would consider an automatic transmission to be heresy but there's a lot to be said for not having to row your own gears, even when you're off the beaten path.
It comes down to comfort. If you don't mind driving a stick shift, you'll get the true Jeep experience with the manual gearbox but if you would rather have a vehicle that you can take off-roading for the day then drive home in comfort, the automatic is the way to go.
The Best Interior Options
Creature comforts are one of the biggest changes in the Jeep Wrangler over the years. Even compared to a decade ago, the last few model years have taken some big steps forward.
Air conditioning, heated seats, and powerful sound systems are all available in the latest Wranglers. And even if your Jeep will spend most of its time in the backcountry, they're all worth considering.
Jeeps can get pretty hot when you're out in the blazing sun. You can put the top down (or remove it if you've got a hardtop) but that doesn't necessarily make it any cooler. Air conditioning can make your day in the bush much more enjoyable.
A heated steering wheel and seats have the opposite effect. If you live in a colder climate or are exploring mountaintops and other cold spots in your Jeep, they'll help you avoid having to pile on 3 or 4 layers of clothes to keep warm.
Another interior option that you may want to consider is the "Smokers' Group" which adds a lighter and ashtray. This can come in handy whether you're a smoker or not. If you end up in a situation where you either choose to or have to spend a night in the backcountry, the lighter can come in handy for starting a fire.
Other Jeep Wrangler Options to Consider
Jeep's upgraded sound system is nice to have for listening to music but it also adds other features like the UConnect system, navigation, and Apple Car Play. Navigation, in particular, can be pretty helpful when you're miles down some forest road.
The optional LED headlights are another useful option from Jeep. If your 4-wheel drive adventure goes longer than you intended, stronger headlights can come in handy. You'll be surprised at how dark it can get when you're away from the lights of a city.
Wrangler Models: Sport vs Sahara vs Rubicon
There are three 2019 Jeep Wrangler configurations - Sport, Sahara, and Rubicon - as well as 2-door and 4-door body styles. All three trims are available in 4-door versions but there is no 2-door Sahara model in the latest Jeep lineup.
Sport is the base model Wrangler. It's still a capable offroad vehicle but most of the options we've covered here are just that - options. That does give you the advantage of being able to configure almost any way you want. That's not as easy to do with the Sahara and Rubicon.
Rubicon - The Ultimate "Stock" Wrangler
The Rubicon is the ultimate stock Jeep Wrangler for going offroad. Most of the options we've discussed here are standard on the Rubicon, as well as some features that are only available with that trim.
The Rubicon adds a better 4-wheel drive system, a higher ride with bigger (and chunkier) off-road tires, electronic locking differentials and sway-bar disconnects, Dana 44 axles, and rock rails and steel plating on the undercarriage to protect against damage when you're offroad.
Sway-bar disconnects are one of the more useful features on the Rubicon. They let you disconnect the sway-bar that keeps the vehicle from rolling too much when you're driving on the street. When you're offroad, this lets the axles twist much further, letting you crawl your Jeep over some pretty large rocks and other obstacles.
The Jeep Wrangler Rubicon is one of the most capable 4-wheel drive vehicles you can buy off the lot right now.
The Sahara model falls between the Sport and the Rubicon Jeep packages. It has a more comfortable ride than either of the others as well as an optional power-slide roof that effectively makes it a powered convertible.
The Sahara also offers a Selec-Trac full-time 4-wheel drive system that's not available on either of the other models.
Choosing the Best Jeep Wrangler to Buy
Once you've decided on the Jeep Wrangler options you want the most, the challenge is finding your perfect vehicle. Whether you're looking for a new or used Jeep, Holzhauer Auto and Motorsports Group can help.
We've got a large selection of Wranglers to choose from so we can help you get behind the wheel of the perfect Jeep for your lifestyle. Get in touch with us today to arrange a test drive.